EXTENDED TO MAR 11th
our inaugural exhibition: the bamart takeover of atelier modern
Immerse yourself in a world of fine artwork as you explore the works of nine contemporary artists and photographers as Brooke Molinaroli of BAM Art takes over Atelier Modern to premiere the gallery's inaugural exhibition.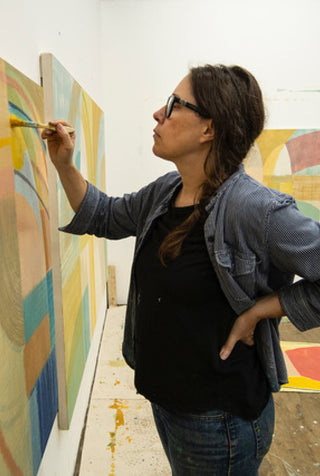 ABOUT KY
ky anderson
Ky Anderson's paints from a diverse array of references, from nightly visions to fictional and personal stories, all while thinking of individual and universal experiences. She is a prolific artist that continually paints while being fascinated by all phases of an idea/concept. Poetically improvising through the formation of ideas, she embraces painting an idea when it's just a spark but once an idea is fully formed she makes numerous paintings on that theme. Her abstract paintings are atmospheric yet structural with each painting exploring the endless possibilities of an imagined space.
Ky Anderson's paintings and works on paper have been exhibited widely over the United States, Canada and Europe in solo shows, group shows, art fairs. Her work has been shown in public institutions including Moore College of Art, Weatherspoon Art Museum, The Nerman Museum, The University of Northern Iowa and The University of Dallas. Residencies include Saltonstall Foundation and Vermont Studio Center. Anderson was born and raised in Kansas City, MO and received her BFA The Kansas City Art Institute. After living in Brooklyn, New York for 25 years Anderson relocated to Kansas City, MO in 2020.
ABOUT FRANCES
frances ashforth
Frances Ashforth is an artist whose work has been shown in Canada, Europe and the UK and in US print biennials and galleries in NY, CA, OR, CT, MA, ME, ID, GA, WI, MN & TN. She received a degree in Printmaking and Design from Skidmore College. She's also been honored to have work in the IFPDA Print Fair, NY, Work on Paper Fair, NY and museums, such as The MacMaster Museum in Ontario, The Boise Art Museum, ID, Sun Valley Museum of Art, ID and The Bradbury Art Museum, AR. Her work has been published inOrion Magazine,Carrier Pigeon Magazine, Art in Print,The Adventure Journaland with Patagonia Books in their recently published book 'Headwaters' by author Dylan Tomine. She has been fortunate to spend time at residencies in Ucross, WY and Playa, Summerlake, OR, as well as being invited on a 5 day canoe residency that followed the path of Thoreau's trek through the North Maine Woods. 
Frances spends a great deal of time outdoors, hiking along rivers, up mountains, and observing habitats. She looks with intention to the land and researches the environments she finds herself in. Whether arid basin and range, watershed or coastal wetland, her spare images share memory of place. Water has been at the core of her work for some time. Early on as a white water canoe guide and years of fly fishing have given her experiences in both salt and fresh water. She believes that landscape defines us, that water is our most precious resource and that the quality of water is the quality of life. Her monotypes, paintings and drawings all share subtle feelings towards sense of place though observation of weather, light and time. Her hope is that her spare images share the tension, detail, color and line, and all aspects of memory that will ultimately strike a chord of respect for the preservation of raw beauty found in landscape.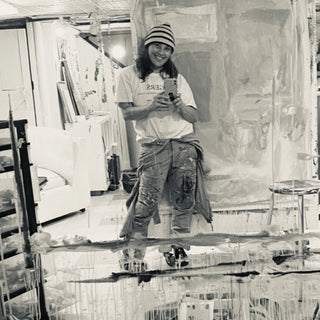 ABOUT JOCELYN
jocelyn fine
Jocelyn Fine is an abstract painter who lives, paints and teaches art in Montclair, New Jersey. Her work is about memory, shapes, emotions and colors associated with landscape, and distant places. Often centering on the enormity of the natural world; the power and strength of the land, and the ephemerality of mankind, her landscapes have a dream-like quality that transcends time.
Jocelyn has a BFA from the University of Vermont and an MS in Architectural and Painting Conservation from Columbia University. She studied Painting Conservation at the Istituto Per l'Arte e il Restauro in Florence, Italy, and completed painting conservation internships at the MoMa, the Guggenheim, and the National Museum of the American Indian. Jocelyn's work is held by private and institutional collectors throughout the United States and Canada. She comes from a multi-generational family of artists, filmmakers, collectors and gallerists. Her great-aunt was one of the first female gallerists in NYC; her mother is a sculptor, one brother is a painter, another is a filmmaker and her sister is the head of an Art Finance company. 
Most recently, her paintings were featured in NJ Home, and NBC's George to the Rescue.
She comes from a family of artists and filmmakers; her mother is a sculptor, her brother is a painter and animator, and her Aunt was the owner of the eponymous Rose Fried Gallery on Manhattan's Upper East Side.
Her art is heavily influenced by the New York School Artists of the 1940s and 50s.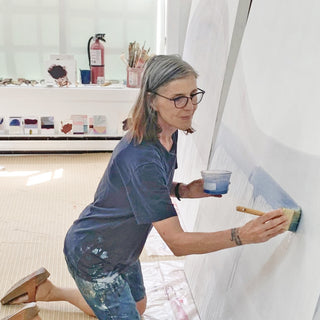 ABOUT SARAH
sarah hinckley
My earliest inspirations for painting come from the landscape and light on Cape Cod. I grew up surrounded by color fields of water, marsh, beach, and sky. As I sought out and found support to pursue painting, I also grew my visual vocabulary to process thoughts and emotions. Later, while in art school I was drawn to the artists Marc Rothko, Agnes Martin, late Monet, and the formalist painters of the 60's that challenged my visual imagination and led me to explore greater depth in painting. 
I approach painting intuitively, mapping out ideas and inspirations into color fields, shapes, and marks. I spend time editing which enables opportunities for new direction, color relationships and maybe something unexpected and beautiful. Certain elements in this visual dialogue remain open and unresolved, so my process slows. A painting can take several months to complete and there are always some works that remain in conversation much longer. Patience, restraint, and risk carry equal weight in my process. My challenge is to remain open to all the possibilities that are happening with the materials. 
Travel and seeking out art is an important part of my creative process for inspiration and challenge. Recently, the exhibition of late Monet and Joan Mitchell paintings in Paris at the Louis Vuitton Foundation has impressed on me my affinity to painters who use formal means in expressing their emotions. The paintings then become unnamed spaces for viewers to experience. Simple forms of beauty can easily be overlooked in an ever changing and challenging world. Striving to make something beautiful out of my own vocabulary feels imperative.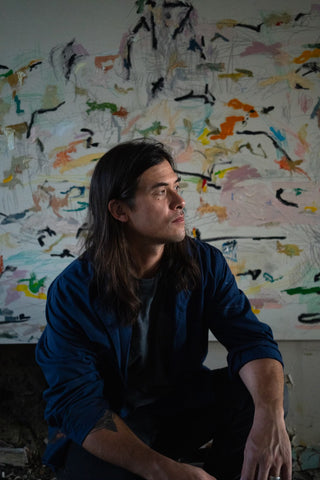 ABOUT HUE
huê thi hoffmaster
Huê Thi Hoffmaster (hWay), is Vietnamese American, currently residing in Hudson, New York. Hue Thi both jokingly and earnestly hopes to receive patience and faith as he tests the limits of his ignorance, pursues what may well be useless, and goes in search of mystery and intuition through his painting.
He initially enjoyed painting as a child due to the praise he received and no one else around him particularly cared much about it, so it could be a lane of his own. Hue Thi is inspired by having the freedom to explore and play with colors and tools and to do it in a serious way like a child inventing a story to play upon. He loves to create pictures from nothing, seeing some sort of internal activity grow, and then inevitably show itself.
Hue Thi believes that art is a type of freedom and way of communicating the nuance of our sensibilities and sensualities and it's a space for all of us to do it in our own way.
He studied at the Pennsylvania Academy of the Fine Arts in Philadelphia, PA from 2001 to 2005.
ABOUT PETER
peter margonelli
Peter Margonelli was a photographer focused on abstracting the relationship between industry and the natural world. Through various means of reducing his subject's forms, whether it be the blurring of rain on a windshield or the flattening view of a landscape from above, his images drew attention to patterns and alignments in the contemporary industrial landscape. His images reflect an emotional landscape and inner world, more aligned with painters like Diebenkon than with traditional photography.

Peter's upbringing in a small industrial town in Connecticut acts as the inspiration and initial spark that led to his fascination with the ways in which industry has transformed the landscape. There is an ambivalence and sadness to the way he pictured the industrial world – his focus was not on the way the landscape has been ravaged or scarred, rather, there is a sense of empathy and nostalgia directed at the crumbling ruins: a sense of wonder at the histories and lives that once occupied these spaces. His images see into spaces without occupying them: they are taken from fleeting moments seen in-transit or from an unfamiliar vantage – giving the landscape a feeling of being just out-of-reach – like a landscape from a dream or a distant memory.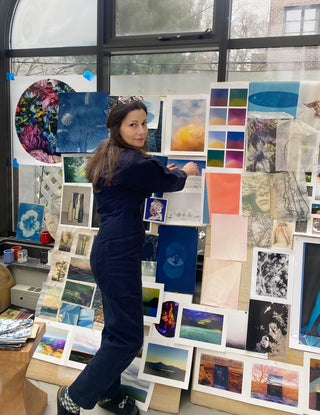 ABOUT DORA
dora somosi
Somosi is a Hungarian-American photographer living and working in Brooklyn and Upstate, NY. She is a visual wanderer and impressionistic photographer. Her images rely on letting an emotional riptide take hold of the photos. That manifests itself in documenting everyday natural events: waves crashing, dreamy fog, lush saturated sunsets, while also exploring the manipulation of the image and adding personal feelings to the captured moment. It can be the ripping away of an element of the landscape with wistful distortions to reveal a fear of its fragility, adding a warmth to connote a sense of peacefulness or motion to alleviate the stasis. Somosi is an artist who happens to use a camera as her means of expression. A landscape photographer, awe struck by the wonder of nature and grateful for its healing powers.
Her work has been shown with The Klompching Gallery, The International Center of Photography (ICP), Kraushaar1885 Gallery, NeueHouse, BRiC Arts, BAM Art, 3Wallsnyc, Blank Wall Gallery, Praise Shadows, Main Street Gallery, Photoplace Gallery. She has work in upcoming shows at The Sarah Shepard Gallery, Carrie Haddad Gallery and the Shen Gallery. She is a recipient of residencies at The Trilium Art Center and Kala Arts. Her photographs have been printed with The Atlantic, Taschen, Cultured Magazine, The New York Times, T Magazine and InteriorDesign. Her works reside with notable New York and Los Angeles collectors and interior designers, including Trustees of the Brooklyn Museum, BRiC Arts, and the Brooklyn International Studio and Curatorial Program. Her photographs have been printed with The Atlantic, Taschen, Cultured Magazine, The New York Times, T Magazine and InteriorDesign. Her works reside with notable New York and Los Angeles collectors and interior designers, including Trustees of the Brooklyn Museum, BRiC Arts, and the Brooklyn International Studio and Curatorial Program.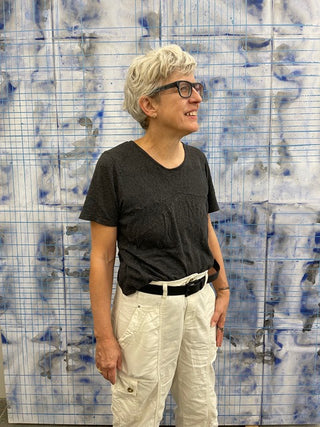 ABOUT JEAN
jean wolff
Jean Wolff has had group and solo exhibitions in galleries in New York City and internationally. In addition, she has published 108 works in 69 issues of 47 different magazines. Her interest in systems and structure within a grid format is a systematic exploration of a structure and its subsequent construction and deconstruction.
Born in Detroit, Michigan, she studied Fine Arts at the Center for Creative Studies in Detroit and at the University of Michigan in Ann Arbor, receiving a BFA in Studio Arts. She then attended Hunter College, CUNY in New York, graduating with an MFA in painting and printmaking. She is now part of the artistic community of Westbeth in New York City.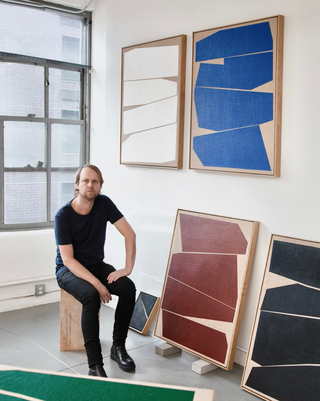 ABOUT ZAREBINSKI
ZAREBINSKI
Zarebinski's work focuses on scale, monumentalism and obsession with lines. His visual identity is embedded in geometric shapes which are forced into minimalistic forms while endlessly searching for simplicity and elegance. His minimal painting style is unapologetically bold yet poetic with traces to Scandinavian mid century aesthetics.

Trained as a still life photographer, his fine art practise carries "less is always more" attitude into painting. Zarebinski's devotion to danish modernism and minimal approach, visibly translates to his original artwork.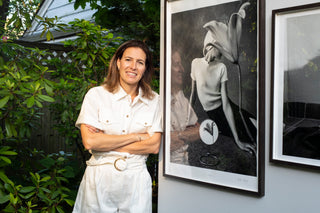 ADVISORY + POP-UP SHOWS

BAM Art is a contemporary art advisory business founded by Brooke Molinaroli in 2018 and based in Larchmont, New York. Brooke uncovers emerging and mid-career artists through regular trips to galleries, art fairs, artists' studios, and far too much time spent trolling Instagram. Brooke visits clients' spaces, works alongside designers, manages budgets, and makes the process of acquiring work low-key, transparent, and fun.