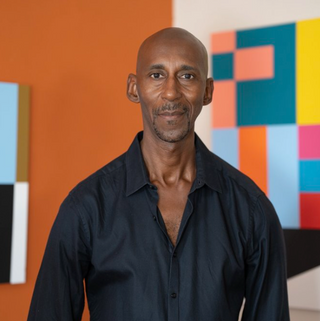 FEATURED ARTIST
I'm a self-taught artist whose work is mainly focused on Hard Edge Painting, Color Field, Minimal and Geometric Abstraction Art, with an emphasis on clean lines, varying shapes and color combinations, in the use of acrylic paints.
My inspirations derive from my past profession in the fashion and modeling industry as well as being surrounded by an abundance of art while working at The Metropolitan Museum of Art and at Sotheby's Auction House.
I'm greatly influenced by the many cultures and places traveled to, architecture, interior design and the Mid Century Modern era, especially by the prominent artists of that period and of the simplistic ethos and aesthetics exhibited during that time.
I want viewers and buyers to have an immediate, absolute visual response to my art, engaging in the colors, shapes, forms and all it's medium. I love the quote of the great artist Frank Stella - "What you see is what you see".
WORLD-CLASS CRAFTSMANSHIP
Fine, rare materials and carefully designed by the best.
PERSONALITY PERFECTING
Express your creativity through functional, conversation-worthy pieces.
EXPERT ADVICE
Complimentary, personalized help from our concierge art + design experts.
TIMELESS DESIGN
One-of-a-kind designs to improve the modern, elevated lifestyle.
ART + SOCIAL CLUB
join the curator's circle
Experience the best of Atelier Modern as a Curator and inspire your life with impeccably curated art and modern objects for the home.