If your material of choice is glass, then our glass edit is hand-curated just for you.From the kiln to your table, our collection of contemporary glass tableware – plates, platters, and bowls exude sophisticated rawness and show-stopping beauty.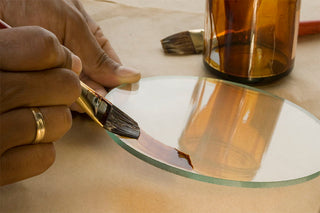 PROCESS
Hand Painted Precious-Metal Rims
Select collections are hand painted with 24k gold and genuine platinum, and then each piece is individually set by hand into kilns. Precious metals permanently fuse to the glass during this step, and the glass "slumps" into their mold's individual patterns, rendering each piece of Annieglass a unique work of art.
WORLD-CLASS CRAFTSMANSHIP
Fine, rare materials and carefully designed by the best.
PERSONALITY PERFECTING
Express your creativity through functional, conversation-worthy pieces.
EXPERT ADVICE
Complimentary, personalized help from our concierge art + design experts.
TIMELESS DESIGN
One-of-a-kind designs to improve the modern, elevated lifestyle.