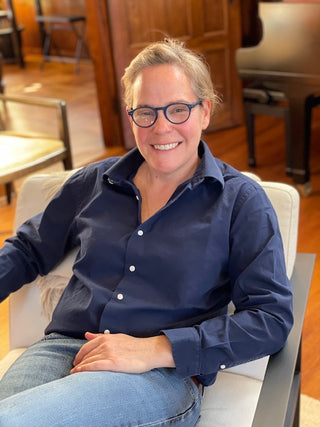 FEATURED ARTIST
Melinda Buie was born and raised in East Texas. She is a 1999 graduate of the University of Texas at Austin. After graduation, Buie moved to New York where she currently lives and works. She has worked for the Whitney Museum of American Art, Gluckman Mayner Architects, and The Adolph and Esther Gottlieb Foundation, which offers grants to individual visual artists.
Occupying a studio in Port Chester, NY, Buie has exhibited her work in NY, CT, NJ, VA, NC, AZ, CA, TX, London, Berlin and Italy. Her work consists of large scale oil paintings of cows from her family's farm in East Texas, portraits of men and women, and an architectural series, including bridges, underpasses and buildings.
WORLD-CLASS CRAFTSMANSHIP
Fine, rare materials and carefully designed by the best.
PERSONALITY PERFECTING
Express your creativity through functional, conversation-worthy pieces.
EXPERT ADVICE
Complimentary, personalized help from our concierge art + design experts.
TIMELESS DESIGN
One-of-a-kind designs to improve the modern, elevated lifestyle.
ART + SOCIAL CLUB
join the curator's circle
Experience the best of Atelier Modern as a Curator and inspire your life with impeccably curated art and modern objects for the home.