Travel from home with the Assoulines — Librarians of Luxury. Founded in Paris in 1994 by Prosper and Martine Assouline, Assouline is the first luxury brand on culture. It began with the desire to create a new, contemporary style of book, using the couple's experienced eye for visually rich stories and compelling narratives.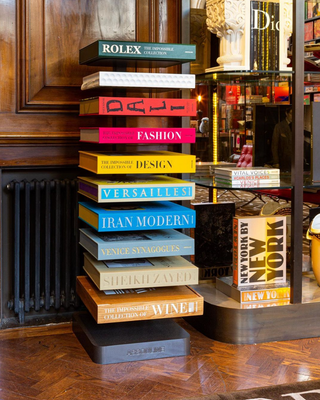 DESIGN MEETS HISTORY
a passion for knowledge, culture and travel awaits
The Assoulines have since expanded their vision to 1,700 titles in three main collections, along with special editions and unique library accessories—a grand oeuvre of inspiring creations. Throughout the last quarter of a century, the brand has established a network of international boutiques in prominent locations across the globe.
WORLD-CLASS CRAFTSMANSHIP
Fine, rare materials and carefully designed by the best.
PERSONALITY PERFECTING
Express your creativity through functional, conversation-worthy pieces.
EXPERT ADVICE
Complimentary, personalized help from our concierge art + design experts.
TIMELESS DESIGN
One-of-a-kind designs to improve the modern, elevated lifestyle.